Dear Friends,
What a way to begin the year! With the surge in COVID-19 cases, it feels a bit like the movie "Groundhog Day," where time keeps looping back over and over. Just when we were supposed to be ramping up and going "full throttle," presenting on the road, we are returning to Zoom or rescheduling, hoping for a safer time to come together.
That said, C-Change Conversations finished last year "strong" with two events I'd like to tell you about. First: a presentation at a Minneapolis-area country club with a number of skeptics in the audience. It was a large crowd, and we held a lively Q&A and received very positive reviews.
At dinner I was seated next to an atmospheric scientist who thanked me for my presentation, saying that she worries about the world her small children will inherit because she is so cognizant of the immensity of the threat. She was impressed that we were able to get the skeptics there to take pause, listen, and try to understand; to actually look at the graphs and comprehend what the science means; and to ask questions about a subject whose gravity they may not have truly considered before that evening. She even said she had "tingles" during our presentation and was so thankful we exist and are doing what we do.
Needless to say, the C-Change team was both humbled and energized by her comments.
The second event was a Zoom presentation of our Primer to an innovative energy company, Ledger8760, an entrepreneurial start-up that helps companies lower their carbon footprint and save money. We were asked to remind their team "why they are fighting the fight" and of the enormity of what is at stake. Like the skeptics at the country clubs, the president of this young company full of climate change and energy experts said he was very impressed by our approach and learned a lot of new information from our presentation.
Two very different audiences, one very similar result.
So, despite feeling like we are in a "Groundhog Day" fog, these responses give us energy for the challenges ahead!
Here's to forward momentum in the New Year!
Best,
Kathleen Biggins
Founder & President
Growing Number of Business Leaders Value the C-Change Primer
C-Change continues to expand its offerings to business audiences, building on successful presentations to real estate companies, Commonwealth Bank, and YPO Gold, which is part of a global network and leadership organization for chief executives and business owners.
As noted above, in December C-Change presented an adapted version of our Primer to 50 employees of Ledger8760, a company that provides companies, utilities, and other entities with a carbon tracking platform that measures energy, emissions, and utility information. The presentation covered the science and effects of warming temperatures using a risk assessment framework that is similar to how business people look at risk: how likely is the risk, how dire the consequences could be, and how difficult or costly it could be to avoid the risks associated with climate change.
Scott Mattei, a venture capitalist with United Capital Group, saw the Primer in August and recommended it to Adam Kramer, the CEO of Ledger8760. Scott says:
"The global warming presentation made by Kathleen Biggins with C-Change Conversations opened my eyes in so many ways. She recently presented to my YPO (Young Presidents' Organization) chapter and to say it was impressive is an understatement. I am not a climate change skeptic, but I did have some unanswered questions. By the end of her presentation, she had answered and/or disproved in a completely non-partisan way any preconceived ideas I had on the subject. I cannot wait to hear her present again and witness how many people's eyes she can open to the reality of the situation!"
Our original, health, and business Primers are an education tool for employees, suppliers, board members, and other key constituencies who need to understand the basics of climate change to make informed decisions. We hope you will contact us to discuss how a presentation might be helpful to your organization.
C-Change Expands Reach to Influential Audiences
In 2021 we delivered 42 Primers to more than 2,000 audience members. Special kudos to Dallas Hetherington, who delivered 11 of them (9 by Zoom), and Catherine Sidamon-Eristoff, who recently presented in person at one of her alma maters, the Nightingale-Bamford School in New York City.
We were especially delighted to extend our reach to the hallowed halls of Congress. The Conservative Climate Caucus educates Republican Members of Congress and staff on climate policies and legislation consistent with conservative values. It is led by Rep. John Curtis (R-Utah), who feels strongly that Republicans need to be more aggressive in taking a leadership position on climate and helping shape legislation. We were delighted to learn about the Caucus when it launched last summer and excited to have the opportunity for Kathleen Biggins to present the Primer in October to the Deputy Executive Director of the Caucus and Rep. Curtis's staff. Their response was very positive, and we continue to explore how we might work together to share useful, non-partisan information about climate change with more people.
Virtual Primer presentations to audiences across the country continue as well. In November, from her home in St. Louis, Nancy Ylvisaker presented to the Garden Club of Buzzards Bay in South Dartmouth, MA. Last week, Kathleen presented our Health Primer to a joint meeting of the Garden Club of Chevy Chase and the Perennial Garden Club – both in the Maryland suburbs of Washington, DC. Late last year she presented the Primer to the Pasadena, Diggers, and Hancock Park garden clubs in the Los Angeles area.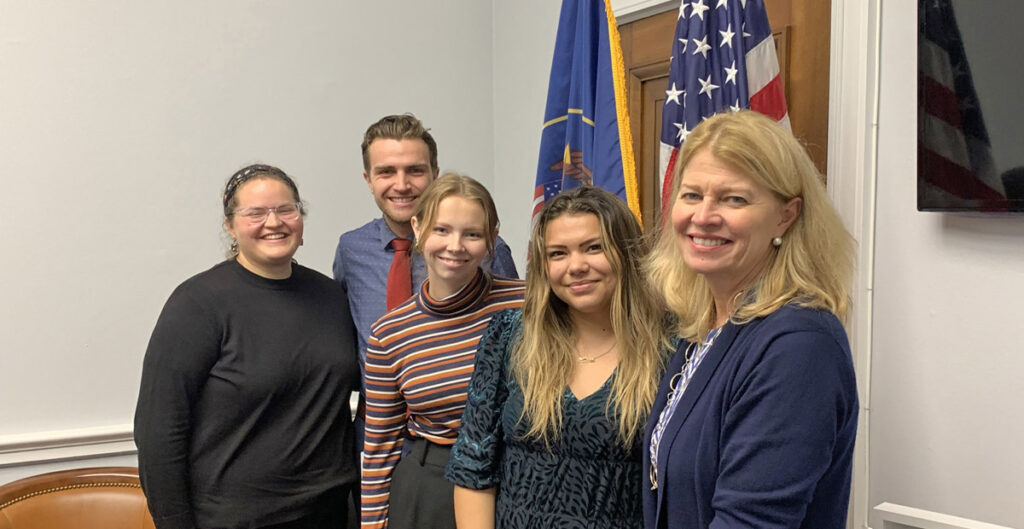 From Kathleen Biggins –
Sophie Glovier is one of those uber-competent people who seem to do everything well. She is a natural leader who gets so many things done – all with a warm smile and a gracious outlook.
We asked Sophie to join us early on to help us with our strategic planning, but she quickly exceeded that mandate, helping us write our bylaws, start our development efforts, deepen our relationship with the Garden Club of America on a national level, and secure highly respected experts for our speaker's series. She also stepped forward to learn the Primer and became our second presenter – proving that our model of training others to deliver our non-partisan, scientifically-based messaging could work and thereby significantly extending our reach. Of course, presenting is one of those many things Sophie does extremely well!
Sophie has been a leader on environmental issues in the Princeton area for many years, and currently is the Assistant Policy Director at The Watershed Institute. Recently she and I delivered a well-received presentation at the Land Trust Alliance national conference on how climate change will impact our health and personal security. Sophie focused on the many benefits of green infrastructure and the power of local volunteerism and action, highlighting ways that all of us can act and make a difference. To top it all off, she has also written a book called "Walk the Trails In and Around Princeton."
We are very appreciative to have Sophie's talents and expertise on our team!
From Sophie Glovier –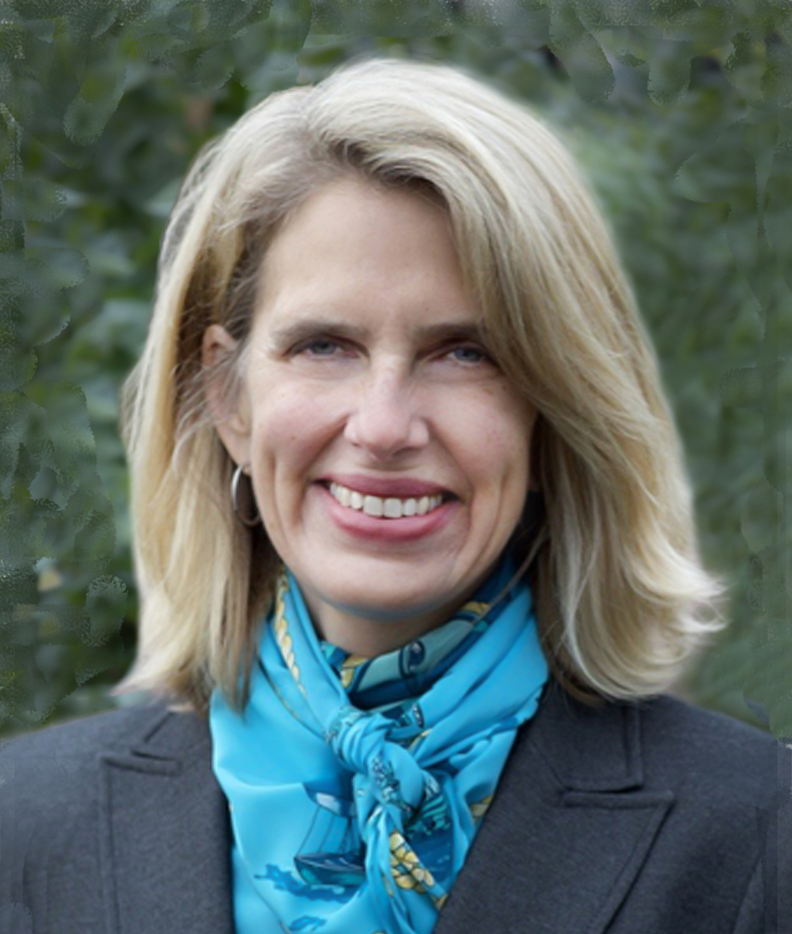 Why I'm involved with C-Change: The women who founded C-Change Conversations are an inspiration to me. They had the courage to start talking about the topic of climate change to conservative audiences when that was a really difficult thing to do. And our approach is working. As one of the team members who has presented the Primer, I've seen what a powerful tool it is to make audiences aware – and care – about the threat that climate change poses to their health, safety, and the economy.
What have you learned about climate change that makes you hopeful?
I am hopeful because many of the steps that we need to take to reduce greenhouse gas emissions will have tremendous "co-benefits" that will make our lives better in a myriad of ways. Our air will become cleaner as fossil fuels are phased out. The use of green infrastructure, like rain gardens, in our cities will help to address the flooding that will be the result of climate change-related increases in precipitation and storm intensity. Urban green spaces have been shown to reduce crime, improve mental health, and provide urban habitat for birds and insects. I also am hopeful because I see more and more people becoming engaged in their local communities, working together to solve the challenges of addressing climate change.
New Jersey Climate Change Symposium Features C-Change Team Member
C-Change co-founder Pam Mount recently spoke at a climate change symposium sponsored by the City of Cape May, New Jersey and organized and moderated by Virginia Hesel, a Rutgers University Environmental Steward.
Dr. Ed Mahaney, a consultant on an array of development and sustainability measures and a former Cape May mayor, invited Pam to participate in the symposium titled, "A Scientific Approach to Global Warming and Climate Change." In addition to co-founding C-Change, Pam is founder of Sustainable Jersey, owner of Terhune Orchards, and a well-known and respected leader in the sustainability, resilience, and climate adaptation movement.
At the symposium, held at the Cape May Convention Center in November, Pam joined a panel of environmental and health experts, including Dr. Thomas Herrington, associate director of the Urban Coast Institute at Monmouth University, and Dr. Rouzbah (Ross) Nazari, associate professor and co-director of Sustainable Smart Cities Research Center at the University of Alabama-Birmingham. While Drs. Herrington and Nazari focused on the science and impacts of climate change, especially to the New Jersey coastline, Pam spoke about how important it is for everyday folk to talk about climate change and what individuals and communities can do to curtail and alleviate the impact of greenhouse gas emissions. Check out our list of possible actions.
Sustainable Jersey's programs are a critical piece of municipal leadership in addressing climate change, Pam acknowledged, but she emphasized that we can't just rely on government programs to solve the issue. Individual choices matter – from how often we drive and what kind of car, to energy use at home, to the way we eat and what we do with food scraps after a meal, said Pam. "It's like voting," she said. "If each of us does it, if we all do our part, we can change the trajectory of the most important issue of our time."
Congratulations, Pam! Thanks for all you do for C-Change and the planet!
C-Change "Heads South" for Upcoming Primers
In person and virtually, we're heading down the road, across the state lines, and on to the Deep South over the next few months. Upcoming Primer presentation locations include:
The Lawrenceville School in Lawrenceville, New Jersey

Huntingdon Valley Garden Club and Planters Garden Club in western Pennsylvania

Athens, Georgia, where we're excited to be delivering deliver three presentations over three days to: the Athens Area Community Foundation; the Junior Ladies Garden Club, Heritage Garden Club, and Athens Garden Club; and the Rotary Club of Athens

Little Rock, Arkansas Garden Club (by Zoom)

Lookout Mountain, Tennessee Presbyterian Church
Of note, next month Catherine Sidamon-Eristoff will present the Primer virtually to OLLI students at Duke University in Durham, North Carolina. OLLI (Osher Lifelong Learning Institute) is a continuing education program within universities in 125 locations in every state and Washington, DC. C-Change also has presented to OLLI programs at the University of California San Bernardino/Palm Desert and University of Utah in Salt Lake City.
Get Involved with C-Change!
We often hear, "How can I help?" Here are a few ideas for supporting our mission of educating more people about the changing climate and hopeful solutions.