Dear Friends,
Happy summer! It is a time of transition for us all, especially for parents with school-aged children, as they juggle yearning for a slower pace while meeting the demands of kiddos with newfound freedom and more relaxed schedules.
My own children have "launched," so it was especially fun and energizing for me to deliver the C-Change Primer to two high school audiences this spring: one at my alma mater in New Orleans and another in Vero Beach, FL. The students were bright, engaged, impressively knowledgeable and passionate about addressing the risks we face.
One student's private comment to me, however, made me incredibly sad. She said, "Our generation feels the older generation is not paying attention, leaving the mess to us, and we won't be able to handle it." I'd certainly heard about the climate anxiety young people are experiencing, but this interaction brought it home, hard.
She's not wrong. We need to act with the urgency this issue deserves for ourselves and for future generations. Last week, more than 100 million Americans were exposed to poor to dangerous air quality from the Canadian wildfires – a very visible, smelly, and cough-inducing reminder that the conditions that make wildfires more intense and severe, including heat and drought, are strongly linked to changes in the climate brought on by burning fossil fuels and our land use practices.
At C-Change, we don't hold back on facts, but we also emphasize all of the good that can come – to our health, economy, and personal security – from a determined effort to make a very big, essential transition in how we power our planet.
To help build consensus about the need for an energy transition away from fossil fuels, we've been undergoing a transition at C-Change, too. Recently we launched new "products," including the first-ever non-English presentation of the Primer, interviews with world-renowned experts on climate change and energy, and even a recorded climate talk that preceded the screening of an Oscar-winning film in a southern art house theater.
Our team has grown by leaps and bounds – both in number and in talent – and our fantastic affiliates in South Carolina and Georgia continue to find new opportunities to share the C-Change message of both hope and concern about warming global temperatures.
It's summer, and today, we celebrate our good news. We are so pleased to share our progress with you, and thank you for being on this journey with us.
Sincerely,
Kathleen Biggins
Founder and President
C-Change Conversations
¡Presentando la Cartilla en Español!
(Presenting the Primer in Spanish!)
C-Change has achieved a major milestone: completing the Herculean job of translating the Primer into Spanish and presenting it to our first Spanish-speaking audience. Hats off to team members Yamile Slebi and Molly Jones for their presentation in Princeton to the Unidad Latina en Acción, an immigrants' advocacy and worker rights organization. Yamile, who is originally from Barranquilla, Colombia, spearheaded the effort and worked with team member Nancy Ylvisaker on the translation. Molly, who served in the Peace Corps in Guatemala and also speaks Spanish, helped get it over the finish line.
The audience included landscapers, construction workers, housekeepers, and worker rights advocates – all people who are concerned about our changing planet but not necessarily knowledgeable about the causes, effects, or what they can do to protect their families and themselves. The presentation highlighted hurricanes in Guatemala, as well as hyper-local statistics relevant not only to the audience's lives, but to the lives of their family members who remain in their home countries.
This presentation brought C-Change Conversations before a new audience – an underserved group that has limited access to a formal education and the science of climate change, but that also represents populations often hardest hit by climate events. We are so proud that everyone's hard work paid off!
Please be in touch if you would like to bring the Spanish Primer to your area.
New in Our Solutions Series:
Professor Emily A. Carter, "Why and How We Must Transform Harmful Carbon Emissions Into Marketable Products"
Did you know that carbon emissions can be turned into products like fuels, fertilizers, and plastics – even diamonds and vodka! In C-Change Conversations' latest episode of Solutions Series – Ideas, Innovations, and Advancements in the Fight Against Climate Change, internationally renowned professor Emily A. Carter talked with Kathleen Biggins about how "carbon tech" can turn climate-harming pollution into marketable products.
Emily is Senior Strategic Advisor for Sustainability Science at the Princeton Plasma Physics Laboratory and Gerhard R. Andlinger Professor in Energy and the Environment at Princeton University. She chaired the committee that developed "Carbon Dioxide Utilization Markets and Infrastructure: Status and Opportunities," a report requested by Congress to help industry and government decision-makers better understand how the technology can contribute to achieving our net-zero goals.
Emily makes CO2 utilization easy to understand and something to get excited about. In the episode, she explains how creating new products and markets for captured carbon is a win-win. It helps monetize carbon capture and diminish the need for mining new carbon resources – a fabulous new form of recycling. Emily also shared her belief that this potentially trillion-dollar industry could grow our economy, effectively support the transition away from fossil fuels, and help prevent the worst effects of climate change.
You can watch the interview here.
Spring Benefit Featured U.S. Department of Energy's David Crane
On May 4th, C-Change Conversations was delighted to host David Crane as the featured speaker for our spring benefit at Stuart Country Day School in Princeton, NJ. On June 6th, the long-time voice in the field of climate change, sustainability, and clean energy received bipartisan confirmation by the U.S. Senate to serve as Under Secretary at the U.S. Department of Energy. Prior to his confirmation, he led the agency's Office of Clean Energy Demonstrations. As the former CEO of NRG, David took the energy company from Chapter 11 to being a Fortune 200 company. He also led NRG to the forefront of next-generation clean energy development through large-scale initiatives in utility scale renewables, residential solar, post-combustion carbon capture, and other technologies.
The sold-out audience was fully engaged in David and Kathleen's articulate and outspoken conversation that touched on many issues, including green hydrogen, new nuclear, and rural electrification, as well as how David is helping to lead our nation in this critical time of clean-tech transition. With his vast knowledge and an unflappable positive outlook, David offered reassurance that, while there is a long road ahead, we are moving in the correct direction to achieve our nation's climate goals of net-zero emissions by 2050.
A longtime supporter of C-Change Conversations, David was one of the first business leaders to speak at our lecture series, back in 2016. We are so appreciative of his continued support and that he was able to join us again for this fascinating, hopeful discussion.
C-Change Team Infused with New Skill Sets
and Energy
Susan Alloway has worked for non-profits in the Philadelphia area for nearly 20 years. Originally from Nebraska, her past experience includes producing and co-hosting podcasts, designing websites and marketing campaigns, and writing/editing communications of all kinds. In 2009, she and her husband (a graduate of Princeton Theological Seminary) founded Redemption Church, a mission in Bristol Borough, PA, that encourages community living, local investment, and non-combative faith exploration. In their free time, they hustle to their kids' ballet lessons and Little League games.
M
ary Brophy is a nurse who has lived all over the world. She is a native of Ireland and a newly minted U.S. citizen. Formerly a senior manager at Cardiff University Hospital and a nationally known lecturer in child health at the University of Wales, Mary joins C-Change Conversations to facilitate contracts and surveys and to analyze data. She brings long-time support to the team.
Rebec
ca Fishkin is an experienced writer and editor who has come aboard to help us continue to grow and position our- selves as leading educators of climate change. Rebecca has managed written content for magazines, newspapers, non-profit organizations, and websites, and she is the author of five children's textbooks.
Nick P
erold is a marketing guru working across climate, commerce, and culture who is helping us with our overall strategy, programming, and social media. Nick was previously head of marketing at Bedrock Detroit, a multibillion-dollar catalytic real estate development firm in Detroit. Prior to that, Nick led strategy for global brands such as Rolex, Jaguar, and All Nippon Airways. Nick lives on a small farm in central New Jersey with his wife and children. He heard us at an event, bought into our mission, and reached out to us. We are so glad he did.
Yam
ile Slebi is heading up our Spanish outreach efforts and delivered our Spanish language Primer for the first time in March (see story above). A Princeton, NJ, lawyer originally from Barranquilla, Colombia, Yamile is very active in the community in the area of sustainability. She has served as the chair of the Sustainable Princeton board, as well as been on the board of the Princeton Public Library. She lives with her husband and two of her children (her third has flown the coop to work in New York City).
Welcome to all! We are very excited you have joined C-Change Conversations.
Inspiring Outcomes of Primer Presentations
Meeting people in their comfort zone and among friends is a hallmark of the C-Change approach to climate education. One of the most gratifying outcomes of presenting the Primer throughout the country is when audience members tell us (literally) "You've opened my eyes, my mind, and my heart."
And then there are those who are so taken with our compelling mission that they establish their own C-Change efforts. Are you similarly inspired? Consider the diverse ways our affiliates in Columbia, SC, and Athens, GA, are making a difference and helping others in their community to learn more about climate change and take action.
Thanks to the C-Change Columbia team, Kathleen Biggins will be a keynote speaker and panelist at the Sustain SC Symposium on October 26th in Columbia, SC. Sustain SC promotes sustainability initiatives by businesses operating in South Carolina. The symposium will launch "The Roadmap to Sustain SC," a year-long study led by EY (Ernst & Young) that aims to elevate the state as the leader at the intersection of commerce and conservation, with initiatives focused on access to affordable, reliable, and clean energy and creating a "green skills workforce," among others.
The C-Change Columbia team also has been contacting area schools to gauge interest in the Primer presentation for students, teachers, and parents. C-Change has presented the Primer to many schools over the years, most recently Saint Edward's School in Vero Beach, FL, and Louise S. McGehee School in New Orleans. (See related stories below.)
C-Change Columbia is well-connected to its medical community and is exploring how to bring the C-Change Health Primer to residency programs starting this summer. The Health Primer covers the basic science of climate change and how it compromises the essentials of good health: physical safety and shelter, secure food sources, clean water, clean air, and our ability to manage diseases. Last fall, Kathleen Biggins presented the Health Primer to physicians, residents, nurses, and physician assistants as part of Penn Medicine Princeton Health's Medical Grand Rounds, the continuing medical education program.
May was a very busy month for our Athens affiliate! The C-Change Conversations Athens team hosted two Primer presentations on May 15: for the Rotary Club of Athens and for the public at Ciné movie theater. Dallas Hetherington, a retired global specialty chemicals professional and C-Change Conversations volunteer presenter, drove with his wife, Lesley, from their New Jersey home to Georgia to present the Primer at both events.
Duke Geddis, who was in the audience for the second Primer presentation, wrote to say:
"Thanks for inviting me to Dallas Hetherington's presentation on global warming at Ciné this afternoon. I've heard many talks on this controversial and complex subject but his was the best. His slides and visual aids are compelling and disturbing, yet he leaves us reason for optimism." (See below for more details on the Ciné presentation.)
Athens team members also participated in the Georgia Climate Conference in May, joining researchers, business leaders, farmers, government officials, military personnel, and public health experts from across the state in conversations about how to support and accelerate Georgia's efforts to mitigate the effects of climate change and transition to clean energy sources.
In related news, C-Change Conversations Athens volunteer Ramsey Nix is focused on grassroots efforts to educate her community. She rallied the Athens mayor, state representatives, and many others to support the "Clean and Renewable Resolution for the Clarke County School District," which, if adopted, would commit the district to transitioning its schools to clean and renewable energy sources, including electric school buses that are manufactured in Georgia. Ramsey wrote the resolution with another local advocate, presented it to the school board, and engaged supporters to speak in favor of it, including middle and high school students.
We are very proud of and impressed by Ramsey's enormous effort to promote policies that will protect Athens' schoolchildren and families. Thank you, Ramsey!
Are We Headed Toward a "Mad Max" World?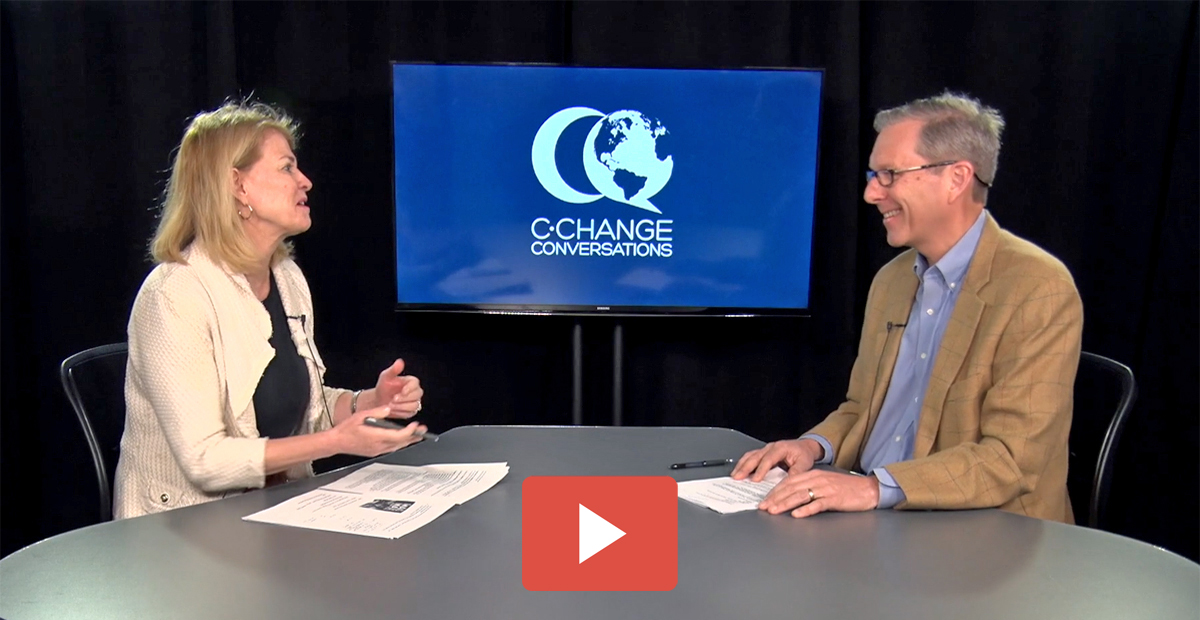 Kathleen Biggins and Dallas Hetherington

C-Change is experimenting with a new way of educating audiences about the science and effects of climate change through short films shown in a movie theater.
When our Athens affiliate secured a Primer presentation at Ciné, the local art house movie theater, we learned about "Science on Screen." This national program sponsors "Creative pairings of … films with lively introductions by notable figures from the world of science, technology, and medicine." And that is how C-Change's Kathleen Biggins and Dallas Hetherington came to create a short film that was shown at the theater before screenings of the Oscar-winning, dystopian film "Mad Max: Fury Road," with possible additional screenings this summer.
"C-Change created a smart, entertaining introduction to how rising temperatures could lead to a very challenging future, like the one depicted in 'Mad Max: Fury Road,'" said Pamela Kohn, executive director of Ciné. "By exploring how the film's themes are tied to climate change – such as access to clean water and how energy independence will be even more important in the future – C-Change certainly enriched the moviegoing experience for all."
C-Change wants to explore expanding our reach through local movie theaters, and welcomes your ideas for where we should "appear" next. Watch the video, feel free to share it, and let us know what you think!
Primers Continue to Educate and Inspire Diverse Audiences
"We believe that our children hold the key to a better tomorrow, and the school setting provides an ideal platform for discussions like this to occur. Through meaningful interactions and partnerships, we can foster a sense of awareness and urgency in tomorrow's leaders, motivating them to take action. C-Change has the power to ignite this transformation in a collective effort to address climate change. By instilling a deep understanding of climate change science and its implications, we equip our students with the knowledge and tools necessary to become responsible stewards of the Earth. We are grateful to C-Change for their dedication and commitment to educating and empowering our community."
Stuart Hirstein, Ed.D., Head of School, Saint Edward's School, Vero Beach, FL
C-Change has been on a roll, with recent Primer presentations to schools, clubs, and other associations. Kathleen Biggins was thrilled to return to Vero Beach, FL, presenting to a conservative audience at the Quail Valley Golf Club and at a major donor event hosted by the Environmental Learning Center. At the Saint Edward's School, the premier private school in Florida, she addressed all of the high school's students and faculty, adapting the Primer to incorporate a conversation about the skill sets that will be needed in a clean energy transition.
In addition to Primer presentations in Athens and New Orleans (see stories above and below), C-Change recently delivered talks to the Women's College Club, Princeton, NJ, and to the retirement community Greenbriar at Whittingham, Monroe Township, NJ. Dallas Hetherington delivered the Health Primer to the Somerset Lake & Game Club, Far Hills, NJ, and to adult students of the Schiller Institute of LifeLong Learning in Guilford, CT.
On the Horizon
It's summer, but our event schedule is not letting up! Building on the success of our Solutions Series, benefits, and other interview-style events, C-Change is branching out to meet our audience in new ways. Upcoming "non-Primer" events include:
Climate Central – This organization of journalists and scientists was an early adviser to C-Change and remains a long-time friend. Now we are thrilled that Climate Central wants to learn from us! On June 29th, we will share our insights with their team about our successful approach in reaching out to moderate and conservative audiences.
Carl Ferenbach – Kathleen Biggins will interview this renowned private equity investor and leading philanthropist on Fire Island, NY, in July.
Glenmede Trust – We will explore how climate change, and society's pivot to address it, is impacting current and future investments with this highly respected investment and wealth-management group. This joint program is being planned for September in Princeton.
CBiz/Chubb Insurance – In November, we will discuss how climate change is impacting the insurance industry and our ability to afford protection for our home and communities in a climate-impacted future.
Primer presentations in coming months include a public event in Greenwich, CT, on June 21st sponsored by Coffee for Good and the Congregational Church, and in Southampton, NY, on September 9th, sponsored by the Southampton Garden Club.
Our turnkey process makes it easy to request and book any of our four climate change Primers: our original Primer, the Health Primer, the Business Primer, and the Primer in Spanish. We'd love to come (or return) to your town!
Biggins Honored in the "Big Easy"
Kathleen Biggins was honored with the Distinguished Alumnae Award by her alma mater in New Orleans, the Louise S. McGehee School, for her dedication to climate change education. While on campus in March, Kathleen presented the Primer to upper school students during a special assembly.
New Orleans holds a special place in Kathleen's heart – as well as a profound worry. The city is a poster child for the complexity of climate change. Its economy and culture are supported largely by fossil fuel industries, and it is deemed one of the most at-risk cities in the world.
But returning to McGehee gave her hope.
"I was encouraged and inspired when I had the opportunity to present the C-Change Primer to McGehee high school students," Kathleen said. "They were well informed and asked sophisticated questions. They give me hope that future generations will be smarter and better prepared to wrestle with this issue. But we can't wait for them. If we don't act soon, we will lose much of what makes this world interesting and beautiful – including New Orleans."
The C-Change Team
Tina Alt, Mary Bechler, *Kathleen Biggins, Harriette Brainard, Mary Brophy, *Carrie Dyckman, Sophie Glovier, Robin Gosnell, Kim Haren, Kathy Herring, Dallas Hetherington, *Katy Kinsolving, Margaret Koval, *Pam Mount, Pam Parsons, Nick Perold, Joan Schiller, Lorraine Sciarra, Catherine Sidamon-Eristoff, Margaret Sieck, Yameli Slebi, Nancy Ylvisaker
*Founding Members