Dear Friends,
Every month seems to present stronger and more urgent evidence that climate change is not a future threat but a current reality. This month is no exception. Events and reports in May demonstrated with crystal clarity how human-induced planetary warming is unleashing extreme challenges for animals, plants, and people. Our actions are reverberating fast and far.
But the month of May also brought some hopeful news: Australia, long considered one of the world's laggards on climate action and a country where climate change denial historically held sway over large parts of the population, voted resoundingly to elect a pro-climate Prime Minister. He promised to turn Australia from a fossil fuel powerhouse into a renewable energy superpower. Importantly, polls showed that climate change was a driving issue for voters.  Climate also played a significant role in the Canadian elections earlier this year, and shifts in public opinion in both countries have been largely attributable to the increasing frequency and severity of climate disasters.
Could the U.S. follow these trends? For now, the U.S. continues to be the world's most ideologically divided country on this topic and polls indicate that the disasters are making liberal-leaning people more concerned but not yet moving conservative-leaning individuals to care more.
But political outlook is only one lens through which we view our world, another is through our local economy and our wallets. And there we are seeing a very different story as the economic potential of the energy transition is becoming more and more evident.
For example, conservative-leaning states like Iowa and Kansas are already some of the biggest players in the renewable energy arena with Texas blowing competitors away in new installations. Nebraska just enacted a net-zero electricity program (any carbon emitted will be canceled out by taking the equivalent amount out of the atmosphere), with public officials carefully focusing on economic benefits and avoiding "climate change" as part of the rationale.
Nationwide, sales of electric vehicles are surging because they are now cheaper to fuel and maintain than internal combustion cars. Utilities that are moving to incorporate more renewable power because of the savings and stability they provide are leading the industry, providing shareholders significantly higher returns compared to industry norms.
In some ways, it doesn't matter if we are transitioning to a lower carbon world because of climate change concerns or because of entrepreneurial spirit and business savvy. What matters is how fast we can make that transition. We are heartened by the growing recognition of the economic benefits created by climate change action and the exploding demand for solutions that is coming from entrepreneurs, investors, consumers, businesses, financial institutions, and even regulators. With that in mind, we hope you appreciate and perhaps pass along some of the information and ideas we bring you here.
Sincerely,
The C-Change Conversations Team
NOTABLE QUOTE


In an interview with the Rocky Mountain Institute, Gary Thompson, a long-tenured member of the Nebraska Public Power District (NPPD) board, looked at the economic costs of fossil fuels vs. renewable energy.  
With regard to fossil fuels, he said, "As I look down the road, I can see that carbon and our costs for producing from carbon-emitting plants, that's continuing to increase."
Contrasting that, he noted clean energy provides more economic benefits. "That's the future, and we've got to be going that way. It's environmental, it's economic, and it's inevitable."
NEWS OF CONCERN


As you will have seen time and again in our previous newsletters, the impacts of climate change are both big and small. This month, we'd like to start with a seemingly small issue. Or at least as small as a baby moose. More than 85% of moose calves tracked by researchers in Maine last year died from tick infestations. Under normal conditions, winter cold and snow kill tick larvae and keep the population in check. But climate change has changed the natural cycle, causing an upsurge in ticks so dramatic that biologists are finding moose infested with up to 90,000 of the parasites on their bodies — a lethal load for many adult animals and devastating for their offspring.
Now let's go big.  A new study in the journal Nature says that roughly a third of all sea life alive today could die off within 300 years due to warming oceans and dropping oxygen levels that ensue. An extinction of that scale hasn't occurred since dinosaurs stopped walking the earth 250 million years ago.
And let's talk about plant life — trees, for example. "Ghost forests" are proliferating along the East Coast of the United States from Florida to New Jersey. It's becoming a big problem — as much as 11% of protected forests in North Carolina have died, succumbing to rising sea levels, drought, and intensifying storms.
How about our water supplies? Two examples in May tell the story. It seems that Utah's Great Salt Lake has dropped so low during the West's epochal mega-drought that lawmakers are studying how to pipe seawater 600 miles overland from the Pacific Ocean. The same conditions (worse than any drought in the last 1,200 years) are fueling an ongoing crisis for the Colorado River where reduced flow is threatening hydropower production that delivers 16% of the electricity used in the American West. The crisis is also putting at risk the water supply to 40 million people in seven U.S. states and irrigation for five million acres of agricultural land.
Other impacts include those brought on by extreme storms, heat waves, and wildfires. As we write, yet another fire season has started in this country and New Mexico is now battling the worst wildfire in state records. Our sympathy goes out to all those who've lost homes and livelihoods … and to roughly one in six Americans that new analysis shows live in areas with significant wildfire risk. Many are likely near you and some will surprise you, like threats in Florida and New Jersey.
Regarding storms and heat waves, let's pause a moment to remember the staggering temperature records set in the Pacific Northwest last year. India and Pakistan suffered an even hotter heat wave over April and May, with satellite data recording temperatures as high as 140°F, a temperature that experts say "tested the limits of human survivability" and was made 100 times more likely by climate change. As noted above, the heat impacted animals as well, with birds becoming so dehydrated they fell out of trees and from the sky.
NEWS OF HOPE


The news above is sobering, indeed. And yet there is an equally persistent drumbeat of progress in the fight against climate change. Governments, companies, and individuals continue to step up to the plate in myriad ways.
Not everything will be effective. But, despite over-promise in some corners — pledges and claims that are rightly being monitored and name-checked — we're heartened that companies around the world show snowballing responsiveness to the climate issue. We're obviously most heartened to see a growing list of companies getting top marks for both effort and follow-through by watchdog organizations. And it's very good news that the U.S. Securities and Exchange Commission (SEC) is considering new rules to standardize the way businesses report information about their sustainability records. Transparency and consistency will benefit everyone.
In more government initiatives, we're pleased to see the U.S. Army premiering a new 'Climate Strategy' aimed at slashing its own carbon emissions while also preparing for the dangers that climate change poses to its military installations and supply chains. This is vital for national security.
And hats off to the Department of Energy for its recent announcement that it will make large-scale investments in direct air carbon removal projects in order to kick-start a CO2 removal industry in this country. The technology for sucking carbon dioxide out of the air is in early stages and government backing at scale adds weight to the probability of success. There's action at the local level, too. Officials in Colorado and Arizona just announced they are requesting proposals for projects that integrate carbon removal projects with concrete production to permanently fix the greenhouse gas in place.
While these entities are priming the pump for new projects, philanthropist John Doerr is priming the pump for the brainpower needed to keep such ideas flowing. The venture capitalist just donated $1.1 billion to Stanford University to found a new school aimed specifically at tackling the issues of climate change and sustainability.
And in the category of 'under the radar,' we're very intrigued by one little-reported advance in the process of 'mining' lithium — a rare mineral needed in vast quantities for the lithium-ion batteries used in electric vehicles. Researchers in Washington state have produced magnets they say can separate lithium from water.  This could be very helpful because it turns out that California's Salton Sea — now an environmental wasteland — may harbor enough lithium to power all U.S. electric vehicles for decades to come.
Internationally, we're tickled to see that the U.K. is now home to the first airport for electric drones and flying cars. The Jetsons, it seems, may end up with English accents.
As usual, we'll close our newsletter with a few visual and interactive nuggets. Enjoy … and we hope you'll read again next month.
NOTABLE VISUAL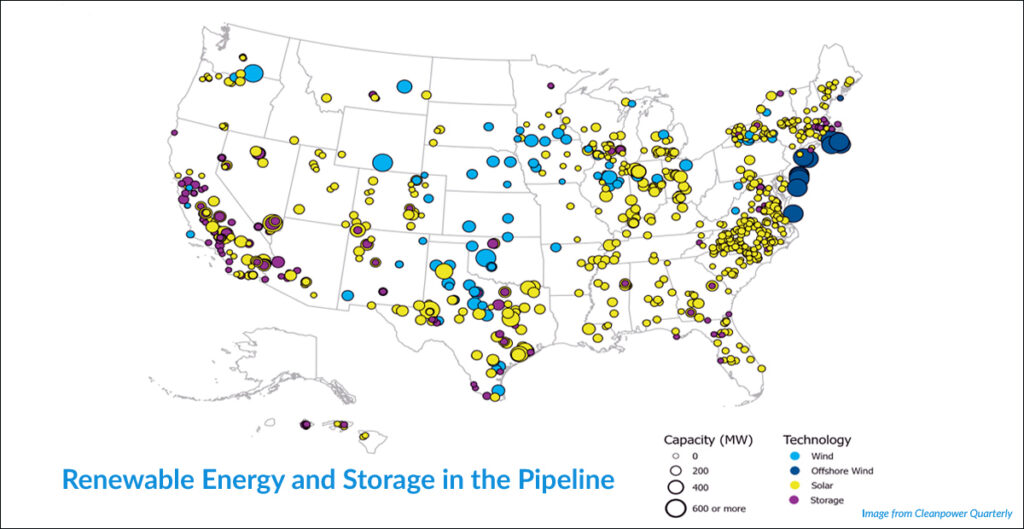 Renewable energy and storage projects are popping up all over. Take a look to see what's happening in your state.

NEWS YOU CAN USE


As noted above, more and more businesses are striving to be net-zero. For those interested in tips for navigating that road, McKinsey has produced this report. 
CHECK YOUR RISK


And last but not least, as the flood season swells and fire season heats up — please forgive the puns — you might be wondering what your own risk looks like. Just input your zip code into this online tool to get the answer.