Dear Friends,

We love hearing from you, especially when you have questions about how our warming atmosphere affects the weather. No question is too simple or complex for our panel of science advisors, who stand ready to field your questions about climate change.
This week, Bernadette Woods Placky answers a question we received from Dechontal Surls about how the planet is getting drier and wetter at the same time. Bernadette is an Emmy Award-winning meteorologist and director of Climate Central's Climate Matters program.
Read other Q&A here, and don't be shy about asking other climate questions here.
Warmly,
The C-Change Conversations Team

"We have global warming and there are water sources drying up, so where does all that moisture go? Shouldn't there be more rain somewhere?" asked Dechontal Surls.
Bernadette Woods Placky responds:
This is a very good question! The simple answer is: Yes, there is more rain falling. It's sometimes hard to process that we are getting both wetter and drier at the same time.
When we heat the planet, there's more evaporation, just like a boiling pot of water. And we live on a water planet, where about 70% of the surface is water. So that extra heat is evaporating a lot more water vapor into the atmosphere, supercharging our water cycle by drying out the drier areas while at the same time supplying additional moisture when there is a trigger for precipitation (both rain and snow, just depends on the temperature).
This graph illustrates what I am talking about.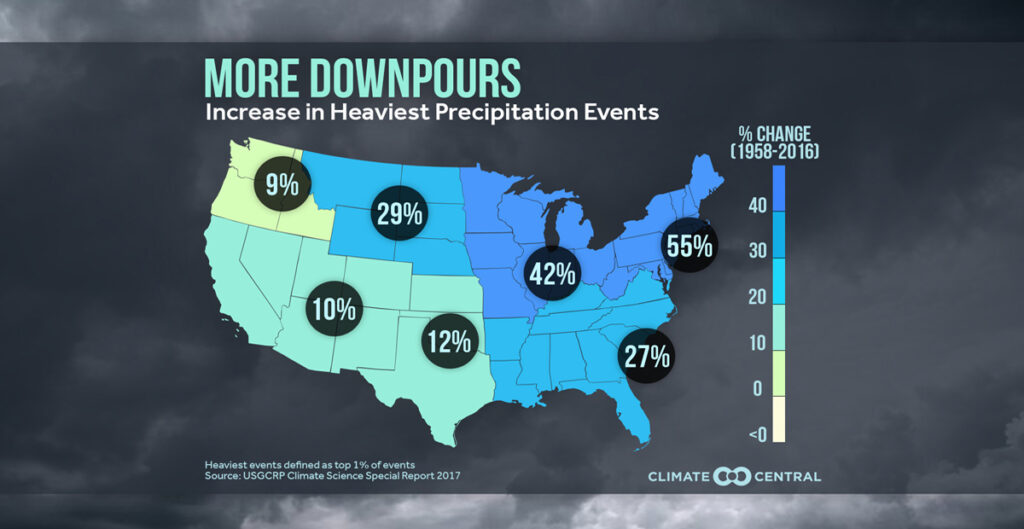 Ironically, even in the areas that are getting drier overall, like the Southwest, downpours are getting heavier. This map shows how rain is falling much harder across the U.S.