By Sophie Glovier, C-Change Team Member
A step-by-step guide to helping your community address climate change.
"What can I do?" It's a question that we almost always get after presenting the C-Change Conversations Primer. Most of us aren't likely to invent a new renewable energy source or broker an international agreement on climate, but we can have a big impact on decisions made by our local government. That's important because cities and towns have the power to significantly reduce greenhouse gas emissions and to help their residents adapt to the challenges presented by climate change.
Here's a step-by-step guide to becoming involved with addressing climate change in your community.
1. Learn How Climate Change is Affecting Your Area
We are already experiencing the negative effects of climate change in many forms, including increasing temperatures, drought, wildfires, and flooding. To learn more about different risks across the country and where you live, click here. If you live near the ocean, data from Climate Central can help you understand flooding risks for your town. How will your town be affected between now and 2050? Is there a conversation you can start or join in your community about how your town will need to adapt to the projected changes?
2. Identify the Sources of Your Town's Greenhouse Gas Emissions
Management expert Peter Drucker popularized the saying, "You can't manage what you don't measure." Has your town quantified its greenhouse gas emissions? If you're not sure, call your town clerk to find out. If it hasn't been done, creating a greenhouse gas inventory is an important step to recommend to your local elected officials. You can ask for a meeting to suggest it, or start by writing a letter to the editor in your local paper. Understanding the major sources of emissions is the first step toward developing effective reduction strategies. There are many resources available to help your town plan to do a greenhouse gas inventory, such as this one from the EPA.
The chart below is an example of the results of a greenhouse gas inventory from Princeton, NJ. By doing a greenhouse gas assessment, the town was able to see that it needed to focus on reducing emissions from buildings, as well as from cars, trucks, buses, and other vehicles.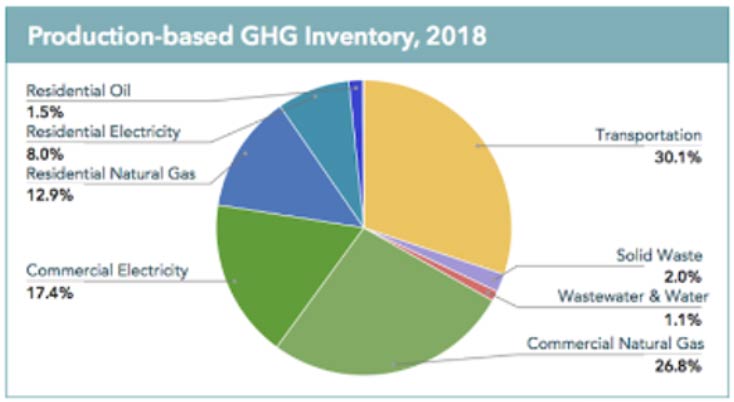 3. Advocate for a Climate Action Plan and Help Execute It
Once your town knows what its emissions are, the next step is to develop a Climate Action Plan. The plan provides a roadmap for a town both to reduce its greenhouse gas emissions through a series of clearly identified steps and to protect its residents by planning to adapt to climate change and to become more resilient.
Since 1991, more than 600 local governments have developed Climate Action Plans that include greenhouse gas inventories and reduction targets. Here is a plan developed by Houston, TX that is worth reviewing. Notice that in addition to reducing greenhouse gas emissions, Houston's plan will result in other benefits to the city including reduced traffic congestion and better air quality.
You should be able to find out whether your town has a plan in place by doing an online search or checking the town's website. If your town doesn't yet have a Climate Action Plan, you can attend a town meeting and make a public comment suggesting the need for one. You can also request meetings with your local elected officials and reach out to local conservation groups to see if they will partner with you to support the idea.
If your town already has a Climate Action Plan, there will be many ways to get involved to contribute to its implementation. Can you start a conversation in your community about its Climate Action Plan and how residents can support it?
4. Determine How Climate Change is Affecting Vulnerable Populations in Your Town
People who have time and resources are better able to adapt to the risks and challenges of climate change. It's important to think about vulnerable communities in your town, how climate risks might impact them disproportionately, and what strategies can be developed to protect them.
Rising heat can be a particular challenge to seniors, for example, and those who live in areas with higher levels of impervious surface and less green space suffer disproportionately when the temperature rises. Can you start a conversation in your community about how your town can protect residents more likely to suffer from the impacts of climate change? Here is an example of how Phoenix, AZ is adding shade trees and taking other proactive measures to address rising temperatures:

Small Scale Focus, Tangible Results
Working on the issue of climate change at the local level can be very satisfying. You can see tangible examples of change happening, like the installation of a solar field, the creation of bicycle lanes, or the development of a neighborhood buddy system that ensures vulnerable members of the community are checked on when there is a power outage. Done right, smart local planning to address climate change can yield a wide range of other benefits: building community, improving the quality of the local environment, enhancing public safety and health, and building resilience.
No matter what steps you take to address climate change, starting and keeping the conversation going is essential. C-Change Conversations is here to help! Please let us know how your community is addressing climate change and how you are getting involved.
Sophie Glovier, a C-Change Conversations team member who has presented the Primer in 5 states. Sophie is the Municipal Policy Specialist at The Watershed Institute where she works with citizens and local government to develop and implement strong environmental policy. She serves as Chair of the Princeton Environmental Commission, is the author of Walk the Trails In and Around Princeton, and is the recipient of D&R Greenway Land Trust's Donald B. Jones Award and Sustainable Princeton's Leadership Award.