Dear Friends,
In May we saw remarkable steps in the fight against climate change from such unexpected corners that the possibility of a tipping point in climate action can't be ruled out. If that sounds like a hesitant 'hallelujah,' it is. Without doubt, there's cause for celebration. From the boardrooms of Houston to the courtrooms of the Hague, an unlikely collection of shareholder activists, investors, and environmental litigants scored a series of big wins that – separately and together – were hailed as game-changing developments against business as usual.
 
But countervailing winds are blowing, too. For example, we're tracking the fallout of a letter from the treasurers of 15 U.S. states to the Biden Administration, threatening to pull the states' assets from financial institutions that agree to decarbonize their lending and investment portfolios.
 
Helping our readers sort through stories like these is exactly what C-Change Conversations was created to do. We hope our resources educate and inspire you to talk more about climate change, especially with elected officials, and encourage everyone you know to listen to the evidence and heed the logic that some of the world's most hard-headed business leaders see clearly.
 
The tides are turning. Let's not allow this progress to be too little, too late.

Warmly,
The C-Change Conversations Team
Notable Quote
"China is not the only perilous threat to our nation. We are regularly warned of the consequences of climate change. Many of us take the only actions we know how to take: turning down thermostats in winter, buying energy-efficient vehicles, separating our trash. Politicians pass small-bore measures to appease progressive voters. Being more attuned to political advantage than to actual impact, politicians shy away from committing to remedies that have the potential to slow the warming: putting a price on carbon, carbon border adjustment tariffs, nuclear power and direct carbon capture. These, too, would require investment, sacrifice and political courage."
– Senator Mitt Romney (R-UT), writing in the Washington Post
News of Hope
May 26th saw a veritable hat trick of three portentous scores against the sluggish response of big oil – ExxonMobil, Shell, and Chevron, specifically – to climate change. "Stunning defeat" [paywall] is how some news outlets described ExxonMobil's face-off with activist investors in their campaign to elect new board members dedicated to steering the oil and gas giant toward a more climate-friendly stance. The revolt is evidence of the growing strength and willingness of Wall Street firms to push CEOs toward greener policies.
 
On the same day, a Dutch court issued a landmark decision [paywall] compelling the oil titan Royal Dutch Shell to cut carbon emissions 45% by 2030 – far faster than previously planned. The case was filed by seven activist groups on behalf of more than 17,000 Dutch citizens claiming the company's business model endangered their lives and human rights. The plaintiff's lawyer called it a 'turning point in history' that could set a precedent in other jurisdictions around the world.
 
And then, an astonishing 61% of Chevron shareholders voted in favor of a resolution to not only lower its own emissions but also, remarkably, to cut the emissions generated by the users of Chevron's products.
 
Also from within the industry, the conservative International Energy Agency issued its own roadmap for achieving net-zero emissions by 2050. This report,  like  other roadmaps we've told you about, concludes that net-zero emissions are achievable and, strikingly, that no new fossil fuel supplies will be needed to meet global demand beyond those being tapped today.
 
And remember the 'Texas freeze' this winter? Some state lawmakers responded to the deadly storm and the catastrophic failure of the Texas power grid by falsely blaming windmills. Legislation has even been introduced to target the renewable industry with added charges and responsibilities. But it appears economics may trump politics, as a new report from the U.S. Energy Information Administration predicts Texas is on track to rival California as the state with the most utility-scale solar. A full one-third of large solar facilities planned for the next two years will be in the Lone Star State.
News of Concern
While we are hopeful that the surge in shareholder and investor awareness will spark more positive steps in climate action, scientists continue to deliver warnings that 7 of the earth's climate systems may each be reaching a tipping point – and possibly faster than predicted. Also in May, the Environmental Protection Agency released a report [paywall] that delivered alarming evidence that the U.S. and the world have moved into unprecedented climate territory.
 
Unfortunately, there are plenty of people who prefer to look the other way (like the aforementioned consortium of state treasurers). Another example: commercial agriculture enterprises in some 23 nations that haven't lived up to commitments on deforestation. Governments and corporations promised more than seven years ago to stop clear-cutting the tropical forests so critical to global climate. In that time, however, an area more than twice the size of California has been stripped of its trees – representing a 50% increase in the rate of deforestation.
 
Meanwhile the world's top meteorologists have upped the odds to over 40% that global warming will exceed the limits set by the landmark 2015 Paris agreement within the next five years. The repercussions – including crop failures, flooded cities, and more disease – are increasingly predictable. In fact, insurance giant Swiss Re has put a price tag on the economic losses [paywall] we can expect by 2050 from climate change at an eye-watering $23 trillion or 11-14% of global economic output. The company's conclusions might influence how the industry prices insurance and directs its investments in the coming years.
 
The human costs of climate change are very real and very now. The Internal Displacement Monitoring Centre reports that extreme weather displaced some 30.7 million people in 2020. That's about three times more than the number of people forced to move by conflict and violence.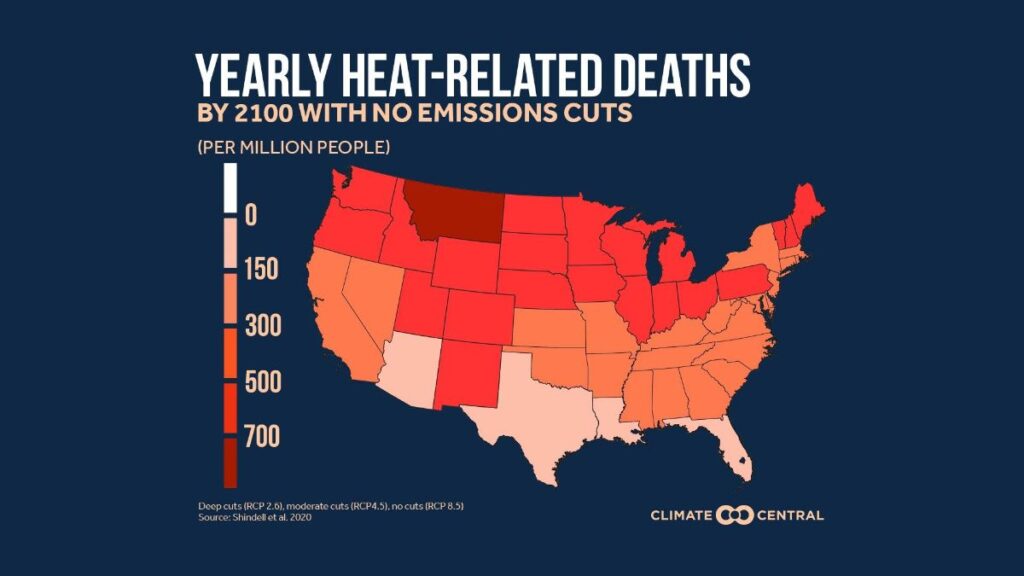 Surprising fact: heat kills more people than all types of weather hazards, including hurricanes and tornadoes. Roughly 12,000 Americans die of heat-related causes annually, according to research by scientists at Duke University. Hotter summer temperatures can contribute to poorer air quality and heat stroke and other heat-related illnesses. Baby boomers and older individuals are especially hard hit by summers that have grown hotter because of climate change. So, in addition to doing what you can to curb greenhouse gas emissions, please be extra careful this summer, and check on elders who are alone in sweltering weather.