Is it too early to see signs of Spring … or signs of thaw in the frozen debate about climate change? Probably. Here in New Jersey, there are undoubtedly many weeks of frigid weather ahead – both real and metaphorical. And yet we can hear ice cracking near and far.
From city councils to state legislatures to both ends of Pennsylvania Avenue, from local businesses to the heaviest of global industries, from private investors to the Federal Reserve, so many green shoots have been poking through the snow this month that we've decided to forego our usual format of 'news of hope and concern' and stick to the sunny side of the street. After all, who can fail to grin when comedian Will Ferrell advertises GM's stunning decision to phase out gas-powered vehicles by 2035?
We'll be back flagging causes for concern again next month but we hope you enjoy February's roundup of exclusively hopeful news. As always we welcome your feedback and questions.

Warmly,
The C-Change Conversations Team
News of Hope
Let's hit the big news first: you may have heard that the U.S. officially re-entered the Paris Agreement on February 19. Just weeks before, more than 400 companies – including steelmaker ArcelorMittal, shipping giant Maersk, and Shell Oil – announced they would work together to decarbonize by 2050. These are some of the heaviest hitters in the world's heavy industries.
Meanwhile, reports are circulating that BP, the world's fifth largest petroleum company, has reduced its oil exploration team from 700 a few years ago to just 100 today – part of its rapid and ongoing shift away from fossil fuels. It's yet another sign that even the world's biggest carbon emitters recognize there's greater risk in 'business as usual' than in decarbonization.
That same conclusion has mobilized the highest levels of America's Federal Reserve. You'll recall that in November, the Fed acknowledged climate-related risk in its semiannual Financial Stability Report. This month the Fed announced that it is creating a first-ever committee to assess climate risks facing the financial system, including companies, infrastructure, and markets.
Signs of adaptation are less easy to find in the coal industry. Coal communities, however, may be more proactive in the face of climate (and political) realities. We're excited to see that coal-state economic development groups have called for the immediate creation of a White House Office of Economic Transition, focused on rebuilding the economies of coal communities as the nation transitions to renewable energy. These sorts of efforts are needed for the transition to help all Americans.
The best evidence projects that the wind and solar industries will see the most immediate build-outs but we're intrigued by smaller industrial innovations, too, like converting garbage to fuel [paywall]. We're also closely watching startups working to make 'green cement,' which would help replace a crucial building material that is responsible for 8% of carbon emissions.
And on the futuristic end of the technological spectrum, we're delighted to hear the narrative around fusion energy – the 'holy grail' of renewables – has changed from 'if' to 'when.' Scientists have been working to achieve this limitless, clean energy source for decades. A report from the National Academies of Science, Engineering, and Medicine calls for efforts to start building a pilot fusion power plant by 2035 and have it running by 2040.
It seems we at C-Change are not alone in our sense of cautious optimism about renewed energy in tackling climate change. The mood of climate scientists around the nation is also on the upswing.
Notable Graph
The Energy Information Agency projects renewable energy generation will double by 2050, while coal and nuclear will decline and natural gas will stay relatively flat.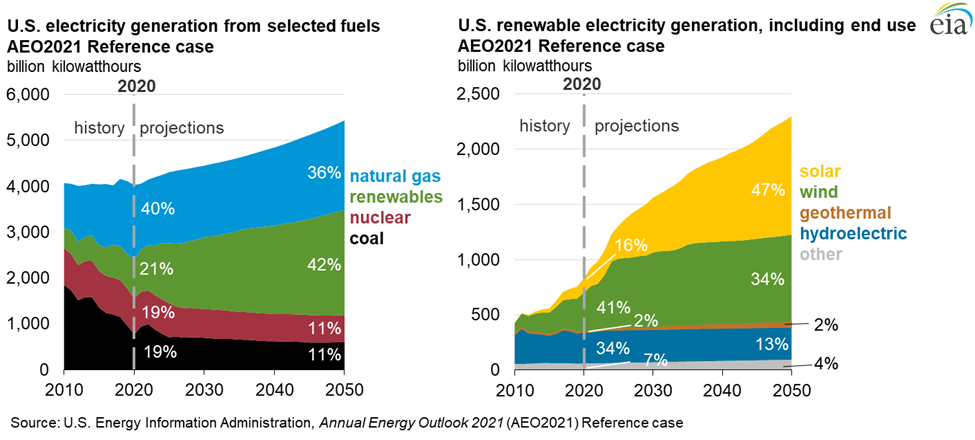 Notable Quote
"[The United States] is the best resourced nation in the world for a transition to net zero … [It has] abundant solar and wind resources both onshore and offshore … plentiful and economically accessible natural gas, and enormous geologic and terrestrial reservoirs for CO2 sequestration. Achieving net-zero carbon emissions in the U.S. by 2050 is feasible and would not only help address climate change but also build a more competitive economy, increase high-quality jobs, and help address social injustice in the energy system." –
From Accelerating Decarbonization of the U.S. Energy System, National Academies of Science, Engineering, and Medicine