Event Date:
Start at 6:30 PM
May 4, 2023
E-Mail
city@vox.com.uathegov@gmail.com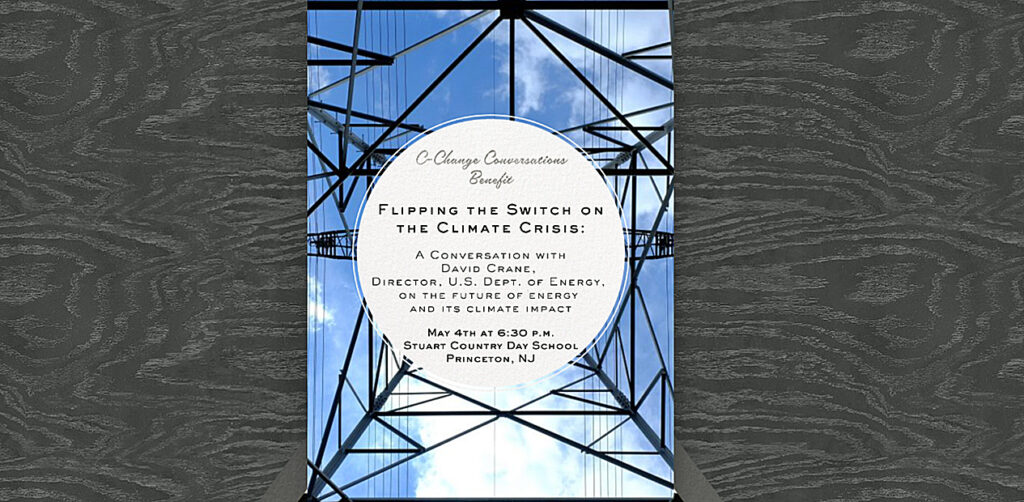 C-Change Conversations invites you to our Benefit, Flipping the Switch on the Climate Crisis: A Conversation with Dept. of Energy's David Crane on the future of energy and its climate impact.
Fossil fuels power our lives and our economy. But new breakthroughs hold promise for cleaner sources of energy, while growing jobs and economy. The energy revolution ahead has been hailed as the biggest transformation humans have lived through – bigger than the Industrial Revolution or the unveiling of the digital age.
Come hear from David Crane, who directs the U.S. Dept. of Energy's Office of Clean Energy Demonstrations, about what to expect from this monumental shift.
When:   Thursday, May 4th from 6:30 – 8:30 p.m.
Where:  Stuart Little Theater, Stuart Country Day School
                1200 Stuart Road, Princeton, NJ
Tickets: This event is open to the public and tickets may be purchased here.
We thank our event sponsors.